Sea Eagle 330 Tandem Review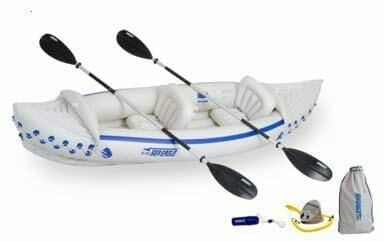 | | | | |
| --- | --- | --- | --- |
| | high performance great features | | |
The Sea Eagle 330 is a two-person inflatable kayak designed to be easy to carry, inflate, paddle, deflate, and afford. The Sea Eagle holds up to its brand name and reputation of Sea Eagle having one of the best kayak lines. But those are not the only feature this inflatable kayak has; it is also constructed of puncture resistant, extra-thick K-80 polykrylar hull materials, which weigh only 26 pounds. In spite of its light weight, this kayak is actually sturdy enough to carry up to a 500-pound load.
But, first, here's your guide in finding the best inflatable kayak.
The kayak measures 34 inches by 11 feet, two inches long, with a roomy interior measuring 13 inches wide by nine feet, six inches long. It is complete with nine-inch tubes, I-beam construction, and high-frequency welded seams, as well as rated up to Class III white water rapids.
When you purchase the deluxe package, you will additionally get inflatable spray skirts, inflatable front and rear seats, two oars, a reliable foot pump, and a rugged carrying bag to keep it all together with a size of 26 by 48 inch. The bag is constructed of heavy-duty 440-denier nylon.
Features of Sea Eagle 330
- Certified by the National Marine Manufacturers Association (NMMA)
- Self-bailing drain valve
- Three deluxe one-way valves
- Lashed down inflatable spray skirts
- I-beam construction floor
- Two skegs on the bottom for better tracking and speed
- Pressure gauge and repair kit
- Bow and stern grab line
- Interior measures 13 inches wide by nine feet, six inches long
- Exterior measures 34 inches wide by 11 feet, two inches long
- Nine-inch tubes
- Two-adult, 500-pound total weight capacity
- 26-pound weight
- Three inflated chambers in port, starboard, and floor
- 33 mil polykrylar hull material
- High frequency welded seams
- Inflated I-beam floor construction
 - Assembles and inflated in approximately six minutes
Sea Eagle 330 - The Positives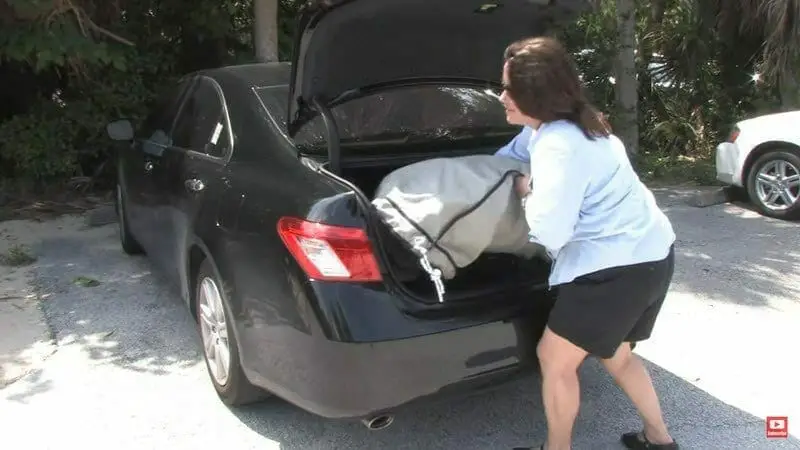 When creating the Sea Eagle 330 review the first thing that stood out to us was it was very easy to inflate. As a bonus it came with a large bag that stores it when your done. The fit and finish of the boat is superb. When its was taken on calm lakes and rivers in the south we really got to see how durable it was and how it handled all types of waters without incident. When taken on Section III rapids of lake Chattooga in SC including Bull Sluice and also on the Nantahala including the Falls, the kayak ran very well without any durability issues. Although the manufacturer claimed that the boat is rated up to class III whitewater, it can actually handle water in both class II and III.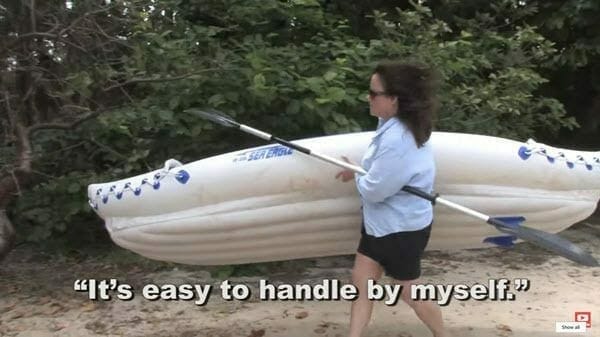 As a side note, we recommend looking into alternative paddles, as the included paddles didn't do a good job compared to other paddles used. Also, install the skeg on the underside of the boat, it will improve the handling of the boat although it is not a make or break addition.
This yak only needs less than 10 minutes to inflate! and its even quicker to pack up! The foot pump which comes with the boat is more than adequate, you don't need to buy an electric air pump to inflate your boat. However if you want the boat to blow up quickly and faster than the foot pump, you can use the electric air pump which can plug into your car to pump the three chambers, while thats happening to blow up the chairs, you can use the foot pump. The seats and spray guards are a little tricky because of the valves where you have to pinch it at the base and plug it quickly.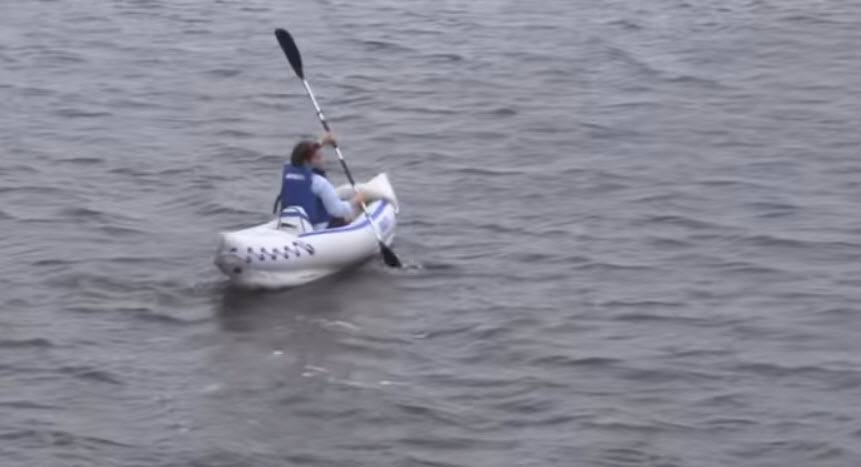 The boat feels very durable on the water, but you have to make sure that you have screwed the valves on tightly because if not, the side part of the kayak could deflate.
An interesting anecdote about the boat, is a fellow owner of the Sea Eagle took her Aussie Shepherd dog, which is 50 lb and has unclipped claws, on a 2 hour tour in the harbor, the dog did not leave a single mark or scratch on the kayak although she was all over the place and couldn't stay still. Durable!
Some owners have boasted that there is a lot of room in the kayak, a 56 year old owner and her husband who is 63 said they could sit comfortably in the boat even had more space to pack a few items.
Many owners are happy with the materials. It is pretty sturdy to a level where it can brush over a few rocks and trees trunks without any issue and even works well in warm seasons.
Sea Eagle 330 Review - The Negatives
The only con is that it is not a professional kayak, as it does not track as well as a professional one, and slightly awkward to paddle due to pontoon like sidewalls.
Packages
Deluxe Solo Package - It includes one canoe seat, a canoe paddle along with a repair system, and a pump.
Deluxe Package – This Is Actually just like the very first bundle except it includes a pump, two canoe paddles, two kayaks chairs, and a holding case along with a repair system.
Professional Kayak Offer – The Professional bundle includes a repair kit, 2 canoe paddles, a pump, 2 deluxe canoe chairs along with a carry case.
QuickSail Bundle – This kit allows your canoe to change right into a small sailboat and includes the awesome QuickSail. Additionally, it includes a base push, 2 paddles, 2 deluxe canoe chairs, a hold case along with a repair system.
Should You Buy Sea Eagle 330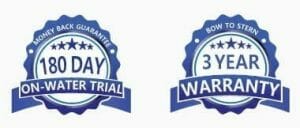 Having an outdoor hobby like kayaking could be a storage dilemma. Traditional kayaks or canoes need room or at least a rack for you to store them, while if you want to take them to a local river, you will also need a good vehicle to take it around. Having an inflatable kayak like the 330 pretty much solves both of those problems. It fits easily into the trunk or even on the back seat of your car. Fold it well and put it inside of the large bag after deflating, then place it at the trunk of your car or other utility storage area.
It might be heavy carrying everything in the bag certain distances, especially if you need to go up some steep hills, but this kayak is much easier than a regular canoe or kayak. Overall this kayak is a great buy and it provides the average kayaker everything they need with its space saving benefits and super durable materials this kayak is a no-brainer!
Bonus Testimonial
Read More: Bonus Owner Testimonial
By: Jory Kleiner
If you want to try kayaking but you don't want to spend a lot of money, if you don't want the hassle with car top racks and rigid, hard shell kayaks, if you want to be able to take your kayak out of your trunk and put it in the water wherever and whenever the mood arises, and if you want to be able to kayak with a partner, then the Sea Eagle 330 kayak may be just what you're looking for.
This Sea Eagle kayak is designed with the beginner in mind. First of all, it's inflatable, folding into the space of a modest sized suitcase. You don't need a big SUV and a car top rack. Just toss it into the trunk of your car. It's very easy to set up. Take it out of its bag, unfold it, and inflate it with the included foot pump. In less than 10 minutes you're ready to put it into the water, and at just 26 pounds, it only takes one person to get it from the shore to the water.
It comes with everything you need to start enjoying the water: a carrying case, pressure gauge and repair kit, foot pump, bow and stern grab lines, inflatable spray skirts, two seats, and two paddles. As an aside here, whatever kayak you consider, you should know that not all come with paddles, and a single paddle can easily set you back from $50 to $100, so the fact that this Sea Eagle inflatable includes paddles is definitely a plus.
For a kayak, the Sea Eagle is quite wide, which makes it very stable. It won't track like a hard shell kayak, but it won't flip you into the water. It's rated for class 3 rapids, but that's probably overstating its capabilities. It's best suited for calm lakes and streams. Some say it tracks more like a raft than a kayak, but if you want to spend a relaxing afternoon on the lake and improve your kayaking skills at the same time, this isn't necessarily a negative.
I do have to admit that the Sea Eagle 330 is a bit tight with two people in it. If you or your potential kayaking buddy is large – over 6 feet tall, this might not be the two person kayak for you. However, if you configure it with the seats facing each other it can be much more comfortable for that larger duo. This seems to boil down to personal preference about how much space you need in an eleven foot long kayak.
Sea Eagle kayaks have been around for about 40 years, so they build a quality water craft. If you want an inexpensive entry level kayak or if you're looking for a boat that will let you enjoy a relaxing day on the calm waters of your nearest lake or stream and will last for years to come, the Sea Eagle 330 is worth serious consideration.
Were Sorry This Was Not Helpful!
Let us improve this post!
Please Tell Us How We Can Improve This Article.