Find the best inflatable kayak in the market this year.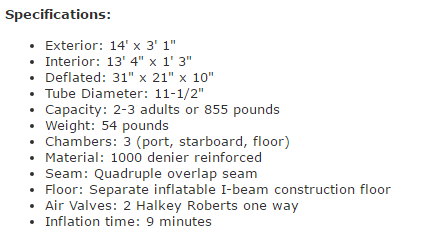 Lightweight
The Sea Eagle 420x is a very lightweight kayak, as it only weighs 42 lbs. In addition, this outstanding kayak can handle a wide array of rapids including Class IV ones, and you can even use it on any open-water out there. Those planning on getting extra storage space, overnight trips, or an amazing camping experience, the Sea Eagle 420x is here for them. I love the Sea Eagle 420x because I can put it on any dry or wet boat, as this kayak is very stable, comfortable and dry on any flat-water. With a computer-aided design as well as outstanding fabrication, the Sea Eagle 420x has an improved structural strength. You can either close the drain valves for dry and high flat-water paddling, or you can also leave these valves open for wet ocean and whitewater kayaking.
Improved Tracking
The Sea Eagle 420x features an improved tracking that you will see on the open water thanks to its removable slide skeg. If you need to handle any sort of adventure, the Sea Eagle 420x is for you. Since you will be able to rocket like a pro down any Class IV rapid, you will love the Sea Eagle 420x. Moreover, you will be able to fly fish on tons of trout streams or cross miles of rivers whenever you want to. In addition, the Sea Eagle 420x is very easy to carry along, as this kayak is very easy to deflate. Therefore, you can store the Sea Eagle 420x in any corner hauling it along on any small plane to any obscure camping or fishing site.
Designed For True Adventurers
The Sea Eagle 420x has been designed for the true adventurer in mind. The Sea Eagle 420x features convertible drains designed for both dry and wet conditions. Both your cargo and you will be comfortably dry in any calm water out there, thanks to the Sea Eagle 420x´s drains. The Sea Eagle 420x is an amazing kayak as it will float even if full of water to the T.
Extreme Durability
With outstanding durability and awesome high-pressure fabric, the Sea Eagle 420x is your best companion on any river out there. This outstanding kayak that you will love is so tough that even a screwdriver would not make a dent on its surface. With a sturdy hull and amazing design, the Sea Eagle 420x will stand up against any challenge. In addition, you will have way more room than other kayaks out there, so two persons will enjoy tons of room.
Pros
Stern spray skirt and integrated bow.
Water-deflecting guards.
Rope lacing will form secure handholds as well as awesome tie-down points.
Outstanding warranty.
The package has a removable skeg.
You can unpack this kayak quite easily.
The kayak can be easily checked out and inflated.
Cons
The sway of the stroke might be substantial which can be encountered by anyone out there taking any synchronized stroke. So you will see more difficulty in this matter than you will encounter with most kayaks out there.
You might not have tons of room to maneuver.
Conclusion
With a lightweight design and outstanding durability, the Sea Eagle 420x seems to be everything you need to have tons of fun on any river. As you will feel very comfortable on the Sea Eagle 420x, you will adore its improved tracking even more down the road. You should also remember that this kayak is very easy to carry along, and you can store it in any almost any small place. Made with outstanding, high-quality materials, the Sea Eagle 420x is the strong, powerful boat that you have been wishing for a long time. So what are you waiting for? Get the Sea Eagle 420x right now so you and your family can have a blast today.
You may also like to read few of our inflatable kayak reviews below;


Resources
Were Sorry This Was Not Helpful!
Let us improve this post!
Please Tell Us How We Can Improve This Article.