The Sea Eagle 473rl Review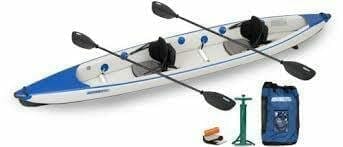 4.6/5

high performance great features

Price = 4/5
Design = 5/5
Stability = 4.8/5
Features = 4.5/5
Quality = 5/5
We live in a small comfortable house nearby Bear Lake, and my brother and I, both steady healthy-lifestyle fans, find a lot of enjoyments from living near the lake shore. Last summer we partook in our most prudent choice – we bought the Sea Eagle Razorlite 473RL inflatable kayak. It is perfect for the two of us, being a 2-paddler, and having owned a number of solid kayaks in our paddling experiences, we decided to opt for an inflatable one. Kids are around the house and there isn't enough room to store a full rigid kayak in the basement. As you may imagine it is now stuffed with kids' bikes, my chopper, my brother's hiking arsenal and a lot of items from the house that no one ever touches. In short, an inflatable kayak was our choice and we have not looked back ever since.
Here's the best inflatable kayak guide that you can check later on.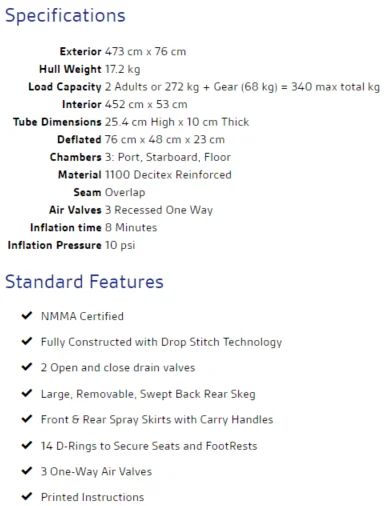 Why The Sea Eagle 473RL?
We ordered it online and it arrived safely packed in a shipping box. First thing I noticed about it, is the ease of assembly, and light weight. Only 17lbs, which the kids happily carried to the yard and started unpacking. With its amazing sleek and compact size – 15.5′ long and just 30″ wide, this inflatable was our star of the afternoon. We decided to test it that very day. Kids inflated it with their bike pump and we were happy to see that it was rigid and solid immediately, without any faults or defects. It came with all the right accessories, 2 tall back seats with a comfort seat pad, 2 adjustable footrests, a high-pressure pump with a pressure gauge, 2 paddles, a repair kit, and a backpack bag!
And Now – The 473RL At Work
We loaded it in our truck and in less than an hour my brother and I were paddling in Bear Lake. The weather was soft and less windy than usual, so we did a few hours, accompanied by a few fellow-kayakers. We were amazed at our fast pace and speed and ease of control. It held a steady straight line even under the wind at dusk, yet it was so easy to get maneuvered that we raised it up to 11:00 min/mile pace in no time. Wind favored our sprinting experience at 8 min/mile.
To Mention Only Some Of The Many Pros Of Our Razorlite 473RL
It is amazingly lightweight and can be carried in a backpack
It is a long and sleek design, just the right one for speed-lovers
Unique high-pressure technology
It is good enough to use in tandem or can be easily converted to solo paddling
It has load capacity as high as 750 lbs, so you can pack it for a full day ride
Highly comfortable seats especially for intermediates and beginners, and people of age
Can be used in lakes, as well as oceans and rivers
If inflated at high pressure, it becomes really-really rigid
Very easy setup, even a kid could handle it
Still highly durable after multiple use
Cons Are So Few and Arguable, Yet Worth Mentioning
It becomes harder to turn if you choose to paddle solo
It is good for calm river paddling, but may not withstand strong winds.
It is not designed to carry more than two kayakers
For us kayaking is not a mere muscle exercise, but a source of relaxation and real-time enjoyment off our gadgets and TV-screens. It helps keep us in good shape not only physically but mentally aswell. Many of the kayaker friends kept asking about the name of the model and its characteristics, and we were happy to give the necessary explanations without going into much technicalities. Our ride was relaxing, and shortly after we entered into a short race with two of our co-kayaker buddies. We kept talking about how great this kayak was for so long that one of our neighbors placed their orders online, feels like were brand ambassadors now hehe!
Conclusion
This inflatable is good enough for beginners and intermediate users, as it is easy to handle and it doesent require too much muscle effort to keep up a steady pace. With comfortable seats and enough room for the two of us, who, by the way are tall enough to fill the kayak if lying on the bottom. The paddling experience is soft and I am thinking of taking my eldest with me next time. He has been asking for it these two years without end, and perhaps the right time has come for him to try our healthy lifestyle.
Below are our other inflatable kayak full reviews;
Resources
Were Sorry This Was Not Helpful!
Let us improve this post!
Please Tell Us How We Can Improve This Article.
Emotion Stealth Angler Kayak

Emotion Stealth Angler Kayak Review and detailed opinions and feedback on whether this is the best kayak for you.
Product Brand: Emotion Kayaks