The Sea Eagle 465ft Fast Track Review

| | | | |
| --- | --- | --- | --- |
| | high performance great features | | |
Typically, my wife and I go kayaking in the summer when it is warm and sunny, and you may feel safe of cold weather and rain. But then my wife took her vacation late March this year and we set our kayaking trip with my Sea Eagle 465ft as early as April 5. Warm, waterproof clothes, courage and good humor - these were our companions along the entire route. Rain, wind and misty weather - it was not making uneasy at all, compensated by coastal beauties and sights, a reflection of the young green leaves on the water surface, birdsong and the smell of wild cherry blossoms: the nature wakes up before our eyes, and we are sailing away, far, far away of the city with its eternal rush and exhausted buzz.
If we shift away from the romance part of it, I would gladly describe that particular experience with Sea Eagle 465ft Kayak.
Check the best inflatable kayak here.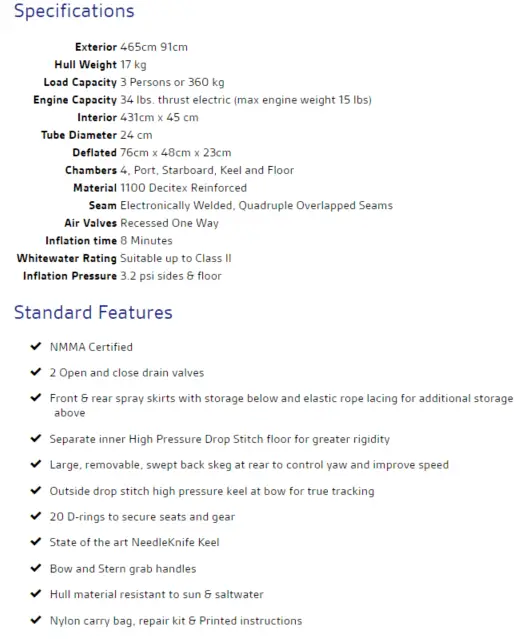 We Prepare To Set Off
It was not the first time I had to assemble the SeaEagle 465 and yet every other time I was amazed at the ease of its mantling and subsequently – dismantling, and I am a corporate research analyst, not a technician, mind you. We would normally rent a trailer for travel, and this time was no exception. But then if you decide to carry it, that's absolutely an option for one man: another advantage of inflatable versus ridged boat. You can pump it with a simple bike pump and it will instantly look and feel as rigid and solid as a hard boat.
The aesthetic part of me is fully amazed at the overall appearance of the frame and the amenities. With its balanced mix of design and equipment, it is both reliable and tough, and with obvious sleek elegance, nicely proportioned.
The rig, once raised, gives the absolute sense of handling any wind whatsoever, so it really permits you to sense the wind successfully. There are other things that impressed me. The stabilizers are effective and look good too.
We Set Off Safely and Quickly
My first impression when we set out on the water and the inevitable early-April wind welcomed us, was the feeling of comfortable control. Partly owing to the comfort and safety of the inflatable triangular sail and 45 square feet it was easy to control the kayak alone, while setting out looked and felt solid and steady. I suppose the light weight of the boat is one of its main advantages, as it immediately reacted to the wind and was still as fast when the wind ceased. I could sail back and forth with the same agility and control, while my wife was taking her favorite photos and enjoying the scene.


My Parents' Experience
This summer my parents (in their mid-sixties) were lent my Kayak for a trip on a lake, and they felt I needed the motor. Otherwise, I enjoy paddling, and the feel of control. The motor arrived though not as fast as I anticipated, but well within the timeline, and I myself could mount the motor (I am not a technician as you remember). My father especially enjoyed the high seats as he experiences a little back problems and sitting back especially on a boat, gives him additional assurance and comfort. Their experience was none the less enjoyable per their own account, and they had sailed for hours that day.


To Debrief You On The Pros and Cons (The Latter Very Few, Though)
Pros
ease of set-up
high performance combined with ultra-light weight and portability
weight capacity of 795 lbs hence ability to carry more stuff and people
180-day trial period, with full refund
3-year warranty
an appealing mix of design and finish: obviously strong and sturdy but with certain elegance
long sleek profile and ultra-durable construction
high seats, slightly deflated are much more comfortable
being portable in the boot of the car
Cons
too big to use as a single, especially for people of age
still a bit slower than ridged boats
high back seats are more supportive but sit rather low
hard shell keel too hard to fold up
pump and motor are on back order
motor shipment dates are versatile
Conclusion
To sum up what I said, I would claim myself being a very happy customer of the best inflatable kayak available on the market now, and from my perspective – it has the best configuration and add-ins package at a rather reasonable price. I loved every moment of owning it, and recommended it to as many friends as possible, even to those who had never set foot on a kayak or a lightweight boat like this. If you wish to explore the nature in peace, without having to worry of the technicalities and safety of your trip, the Sea Eagle 465ft Kayak is your definite choice.
Check below other inflatable kayak reviews;


Resources
Were Sorry This Was Not Helpful!
Let us improve this post!
Please Tell Us How We Can Improve This Article.
Emotion Stealth Angler Kayak

Emotion Stealth Angler Kayak Review and detailed opinions and feedback on whether this is the best kayak for you.
Product Brand: Emotion Kayaks