The Sea Eagle 435PS Review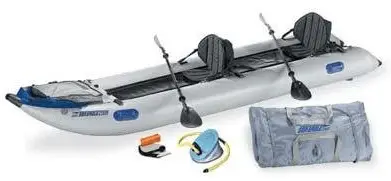 | | | | |
| --- | --- | --- | --- |
| | high performance great features | | |
As an avid kayaker, one of the biggest issues with purchasing and trying out new ones is trying to figure out if the kayak will suit your needs adequately for at least a few years. Buying second-hand ones usually results in disappointment and failure on the first voyage, which is why if you are looking into buying your first (or second, third fourth) you should seriously consider the Sea Eagle 435PS kayak.


Why The Sea Eagle 435PS
Well-Known Brand. Sea Eagle is considered one of the experts in all things water sport related, for years now they have been a go-to brand for keen kayakers, water sports enthusiasts and for good reason! Their products are solid and excellent value for money mainly because they use quality materials and don't skimp on sourcing.
The Weight and Size. There is nothing worse than an uncomfortably large or annoyingly heavy kayak. One of the main draw cards of the Sea Eagle 435PS is the convenient size and weight. You'll find it's easier enough for one person to carry it but even easier with two.
Easy to Use. There is nothing worse than buying a brand new kayak only to struggle with how to use and if it's inflatable - how to inflate it! With the Sea Eagle 435PS even if you're new to kayaking you'll be able to start using this one with ease.
Durability. Ideally, you want your kayak to last a few years (at the very least) so when you find a quality kayak that has 1000 Denier Reinforced Material flooring and a Quadruple Overlap seam you know you're looking for a kayak that is going to take you on a whole bunch of journeys, not just a couple! Having a strong and durable hull and flooring is really vital when it comes to kayaking, anything that presents punctures or holes is always a positive.
Price. While you could buy a second hand very questionable kayak for less if you're after a new kayak that has been thoughtfully constructed and manufactured for a reasonable price, the Sea Eagle 435PS is the way to go, unlike a lot of other brands out there Sea Eagle's products are great value for money.
That isn't everything, though, just like with all their products Sea Eagle offers features that not many other water sports companies do. Just remember how important safety features really are when it comes to adventure sports.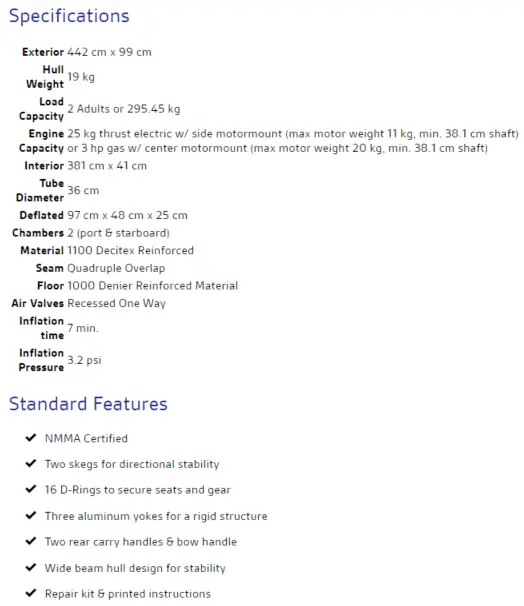 So if you're still not convinced by the Sea Eagle 435PS, here are some reasons you should consider an inflatable kayak over a rigid shell one
Easy to Store. Unlike hard shell kayaks the inflatable version doesn't require a lot of garage space, simply deflate it and pop it in a cupboard until your next adventure. Inflatable kayaks also show wear and tear a lot less than rigid shell versions.
Lighter to Carry. While traditional kayaks can be upwards of 20 pounds for a single person one, inflatable ones are about that weight for a 2 person kayak which is easy to maneuver with a friend or partner!
No Need for Roof Racks. Which is another expense to consider when you're deciding which kayak is right for you.
Price Inflatable ones, just like the Sea Eagle 435PS are very reasonably priced compared to their rigid shell counterparts.
Easy to Take Care of. Simple deflate it, dry it off and you're done! Many people are put off by inflatable kayaks because they assume there is a lot of maintenance required for example patching punctures but if you do your research and decide on a Sea Eagle 435PS you won't have to worry about things like holes and inconvenient rips.
So if you're in the market for your very first kayak or you're already an experienced kayaker and you aren't 100% sure which route to take, you really cannot go wrong with a Sea Eagle 435PS. Not only are they great value for money, they're durability is far superior to other brands on the market and they're ability to glide through the even choppy water with ease is something you cannot look passed. Sea Eagle continues to be the leading brand of all things water sports so when you're ready to get out on the water and experience some truly amazing kayaking, look no further than the Sea Eagle 435PS, you will not be disappointed.
Check below some of the inflatable kayaks we've reviewed;
Were Sorry This Was Not Helpful!
Let us improve this post!
Please Tell Us How We Can Improve This Article.
Emotion Stealth Angler Kayak

Emotion Stealth Angler Kayak Review and detailed opinions and feedback on whether this is the best kayak for you.
Product Brand: Emotion Kayaks