The best fishing kayak, top of the range reel and tackle, extensive range of lures and bait, and still no fish! Fish are supposedly everywhere, yet you sometimes need the help of a device to find them.
A simple solution that was appreciated by anglers was the introduction of fish finders. However, many are still unfamiliar with the concept of using a device to find fish.

Over the last decade, Kayaking popularity surged dramatically in the United States. Kayaking became a staple for water enthusiasts. This is where evolving technology comes into play.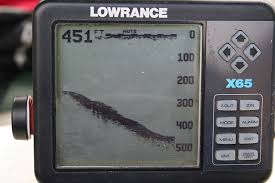 Fishing technology did not lag behind with the advent of kayak fish finders with different models, different features, different depth sensors, different visual interfaces, etc. Today the market is saturated with many great and some not so great products, don't worry were here to help you find the best kayak fish finder around!
Top Fish Finders This Year - Top 10 Best Fish Finders
The Garmin Striker is a high-end model with a depth of 1, 600 feet, and at the same time the budget device in the Striker range. It incorporates a GPS with a 3.5-inch display as well as an option to upgrade to 7-inches. It has integrated CHIRP SONAR technology which is continuously sending you information.
This technology is the latest in target separation technology. A high-frequency sonar, called CLEARVU scanning gives anglers a crisp, clear view of fish and surrounding structures and objects. It is as close to a photographic view as you can get.
Anglers with a great fishing kayak in need of a fish finder to match it will find this technology quite handy. While a top-end product, it installs quickly and easy to use too. Using wide-screen technology you can go up to 9-inches display.

While it comes with all the features of the Striker 4, you have numerous top technologies added to it. It offers internal 5Hz GPS as well as an increased CHIRP SONAR and charts and maps built in.
This device is one of the most affordable high-end fish finders with excellent features. It incorporates Fish I.D. and water temperature sensors. It identifies fish readily with LED backlit emanating in high resolution from the 7-inch display. The kayak fish finder mounts easily with a swivel, tilts and quick release bracket making your viewing angle varied too. It is ideal for both nighttime and daytime situations with the ability to adjust the backlight. You can change frequencies between 83 and 200 kHz enabling you to fish along the shoreline and deep water. This model uses down imaging.
4. Lowrance-ELITE-4 HDI Combo Plotter
If Lowrance is your manufacturer of choice and you look for a high-end model with outstanding features, opt for this device. It comes with internal GPS, integrated structure and CHIRP Scan, both keypad or touchscreen ability, and Insight USA charts for inland and coastal waters.

You dont get a transducer but you can purchase a similar model with one from 83 up to 200KHz. It mounts easily with a 7-inch screen, built-in Wi-Fi, excellent accuracy and great for commercial fishing too.
5. Hummingbird-HELIX 5 CHIRP GPS-G2
Hummingbird fish finder offers its budget HELIX 5 with a 5-inch display. It uses side viewing technology, making it ideal for shoreline and shallow water. Anglers who want to save their waypoints will find the Micro SD card slot helpful. Auto chart live technology is a feature various models do not offer.

It gives the opportunity to create fishing maps while on the water. These maps include calculating bottom hardness, vegetation, depth and comes with 8 hours recording time should you want to share your spots with the world.
When you are looking for a down view Humminbird fish finder which is excellent for deep waters, you may want to give a thought to the PIRANHAMAX 4.3 DI. As a budget fish finder, it is ideal for a small kayak with the screen display being only 4.3-inches.
This device comes with a myriad of features including Navionics, Transducer, GPS, and CHIRP Sonar. Also, it does have a microSD card slot, easy mounting options with the removable mounting ball, built-in Wi-Fi, live streaming options, wide-view CHIRP down viewing, no fogging technology, and a 4-inch display.

Compared to similar devices, it is moderately priced while offering outstanding features. Anyone looking for something more substantial will find the 5 Pro offers all the same features, but a larger display. This device provides down viewing.
8. Raymarine e165-Hybrid Touch
If a high-end and ultra-large screen is what you are looking for, you will appreciate the e165 from this manufacturer. It offers high-speed withdraw and pin-sharp display with screen sizes from 7-inches and up to 15.4" inch.
Sizes in-between are 9 or 12-inches. Even though it has outstanding features and is simple to operate, it does not offer internal GPS. Features include thermal night vision, radar, sonar, electronic charting, remote viewing, chart plotter, split display capability, and much more.
This device offers vibrant sonar images with its sharp, clear, and crisp 8-inch display. Adjustable backlight enables you to extend battery life up to 15 hours when reducing brightness. Incorporating sonar and transducer, it reaches up to 300 feet of depth. It is a down viewing device, not suitable for shoreline kayak fishing.

Its sonar technology enables anglers three-dimensional coverage regardless of depth. The target separation ensures that you can differentiate between fish and other matter. You will also be able to see if it is two fish, etc. Anglers should take note that the Marcum range caters to ice fishing.
Anglers can also enjoy complete portability by using a device like the Hawkeye series. The adaptability of the transducer allows for various situations like ice fishing, trolling, shore fishing, and kayak fishing. Sensitivity settings will enable you to see images clearly while it reaches a depth of 240 feet. Even though the Fishtrax is slightly thicker than a smartphone, it is similar in size, while offering a traditional fish finders features. While fully portable, you can mount it to your fishing kayak.
This portable device comes in three models with the entry-level designed for ease of use and affordability. It can identify what different objects like weed, rock or fish are. With clear fish alarms and intelligent sonar technology, you can fish while it locates more fish sources. The sonar beam offers dual functionality too, with both 83 and 200 kHz frequencies. If you want to mount it, accessories like suction cup mounts are available aswell.
What is a kayak fish finder?
Your fishing kayak and the rod will be your primary tool, while your secondary tool will be the fish finder. Even though all vessels use this technology, kayaks differ due to its size. Thus, you will use different methodologies when looking for a fish finder for your kayak. It is mainly used to navigate waters to find fish. It works by transmitting ultrasonic waves while displaying its findings on its monitor. When it sees a fish, the sound will emanate towards it. You will be able to calculate where the fish is, its depth, as well as identifying fish species. These details should be enough to grab your attention. However, we will explore further features to guide you in choosing the best fish finder.
What to look for in a fish finder?
Fishing conditions are a priority and the kayak you are using as well as various other important factors can either make your fishing expedition a success or a disappointment. We will point out the essential characteristics of fish finders so that you have an easy time making a choice.
The main components of fish finders are a power source which is a 12V battery, transducer for sending and receiving signals into the water and the display; the unit itself with buttons and screen.
Power Source:
You need a power source to run wiring to the display and transducer, which is a standard 12V marine battery.
Transducer:
You need space for that too, and many kayakers or manufacturers like Lowrance offer a suction cup mount along with their device.
Display:
Everyone thinks a large display is better and for obvious reasons too. However, when you consider a fish finder, keep in mind that you are looking for something that will fit a kayak. The kayaks width is essential, and you do not want a massive, clunky device that adds weight and is difficult to mount. Display size is thus an important consideration.
In addition, you also have several other important factors to consider which are discussed below:
Mounting space
Mounting space is one of the first things you look at. It will depend on kayak size and space. You cannot choose a device if your fishing kayak does not allow for proper mounting of your chosen device.
Does your kayak have adequate space for the device itself, the 12V battery and its cables too? The larger the kayak, the larger you can go in screen size. A small kayak will do better with a smaller device with a 3.5-inch to 4-inch screen. 5-inch screens will be good when you own a large kayak.
Screen resolution
When you choose a smartphone, camera, TV, etc. you always look at the screen resolution. The same applies when you select your fish finder. More details, sharper imaging and much more can only be achieved when the resolutions are higher.
Down or Side Imaging
Some models use down imaging, while others use side. As you can deduce from the name, down imaging will show you what is below. Down imaging is therefore suitable for deep-water kayaking. Side, however, shows the side, which is suitable for shorelines and terrains, making it suitable for shallow fishing along the coastline.
Frequency
Frequencies are essential as lower frequencies suits deeper waters, while shallow water requires higher frequencies. Single, multiple and dual frequencies are available as well. The frequencies predominantly range between 50 and up to 200kHz.
Weather Resistance
You want your device to withstand all elements. It is hardly ever a cheap device and protecting your investment is another priority.
A fish finder that can withstand what nature delivers on open waters, including priority one, water resistance is a must. Look at the design and opt for a rugged device.
Manufacturer and Price Ranges of fish finders
The other priorities include a trusted brand from a reputable manufacturer. Some of the best fish finder devices are manufactured by brands like Garmin fish finder, Humminbird fish finder, and Raymarine fish finder.
These are high-end devices with a price tag to match. Budget-wise, you will also get good models with a lower price tag; just be sure you do not become a victim of being cheap since you will usually end up paying more in the long run in your quest to find a kayak fish finder that caters to your needs. All in all, nearly all these devices are manufactured with different budgets and needs in mind.
Exploring The List Of Manufacturers for kayak fish finders
Garmin
If you own a GPS or navigation device and even watches and more, you know this reputable manufacturer well. As a navigation leader, you cannot go wrong with any of their devices, including fish finders. They ensure that throughout all their fish finders, they can offer products that are suitable for all budgets. The Garmin Echo range, for example, has numerous priced options. Looking at a high-end device like the Striker, you have a combo-device that acts as a GPS and fish finder. If you are looking for the best fishing kayak that fuses maximum functionality and premium price in one package, then you may give this one a try.
Hummingbird
This is another industry leader that has established itself as a provider of a wide range of devices considering all budgets and needs.
They cater to small and large boats. The Piranha fish finder is ideal for smaller boats, Ice, is excellent for extreme cold, while the HELIX range offers advanced features. Hummingbird fish finder has more than a dozen different options to choose from.
Marcum
Those familiar with ice sonar systems will recognize the name Marcum. Beginner anglers will find easy-to-use, cheap devices, while professional anglers have suitable ranges too. Using military-grade engineering, you won't go wrong when you choose a fish finder from this brand.
Raymarine
This brand manufactures a selection of products including digital fish finders. Their Dragonfly range is the top choice for premium features.
Lowrance
This brand which is another established manufacturer in the industry caters to professional and recreational anglers. Being excellent in design and featuring the high-end Elite and HDS fish finder series, it acts as a chart plotter and fish finder combination with advanced features. Beginners and recreational anglers will love the HOOK fish finder series that is low priced while still offering excellent features.
Final Fish Finder Verdict
We hope you now understand what a fish finder is, what its functions are, and what to look for to suit your budget and needs. You may have realized they have different functions, features, and manufacturers.
They have one commonality though; each one is top quality. Kayak angling is no longer an arduous and lengthy procedure. Your fish yield can increase tremendously with any one of these options above.