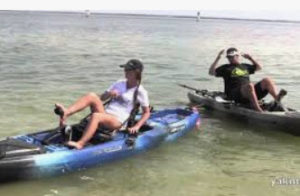 When it comes to pedal fishing kayaks, there isn't a "one size fits all". Some prefer a larger kayak that moves easier, while others rather opt for a shorter, yet wider option. Some also spend quite a lot of money on one, while others prefer to go cheap and not get something that's very high end.
In terms of price range, the subject of today's review, the Native Watercraft Slayer Propel 10, is somewhere in the middle. However, in terms of performance, features and build quality, it can easily go up there with the big dogs. It even beats a lot of the crowd favorites in numerous categories. But how good is it, actually? Let's find out in our Native Watercraft Slayer Propel 10 review.
If your looking to check out our comprehensive guide on more models click this link.
Native Watercraft's Propel Drive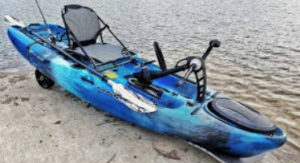 Even though a kayak pedal drive system is becoming pretty common, Native Watercraft have taken a bit of a different approach here. For example, Hobie's Mirage Drive is extremely complex, while Native Watercraft keep things simple. As you sit in your saddle, you're turning your pedals around in a circle. In turn, those pedals power a propeller that's beneath the hull. That's all there is to it, and the whole system is completely sealed. It's also covered with stainless steel and anodized aluminum. The anodizing is a smart move, as salt water might result in galvanic corrosion over time. True, if you bang the drive up enough times, you might tear off some of the protective coating, but it is still much better made than many other competitive models.
It also has another nifty bonus. If you reverse the direction in which you spin the pedals, you can reverse the direction in which you're moving. This can be game-changing, especially for fishing. You can easily navigate tight areas, and you get yet another way to pull back against a fish when you're in a tight fight.
A downside, however, is that the drive limits you in terms of depth. The propeller sticks down around 16". Therefore, anything shallower than 17" might mean that you could be dragging the propeller along the bottom, and damage it.
Stability and fishing capabilities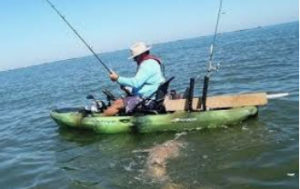 When discussing a solo fishing kayak, the question that needs to be answered is whether or not you can stand up in it. The Slayer Propel 10 answers that with a resounding "yes". Sure, this might depend on your body type, as well as your comfort levels, but generally, we found that a few different body types were able to stand up in it.
The hull is designed to maximize stability. If you turn it around, you'll find that it has a tunnel shaped hull, similar to a pontoon. This gives it plenty of primary, as well as secondary stability. In layman's terms, this means it will be very stable in both calm and choppy conditions.
You get a 10 feet long (or short) body, which makes the Slayer Propel 10 extremely easy to maneuver. Turning left and right is no issue, especially when you compare it to its larger brother, the Slayer Propel 13. The hull is also 34" wide, which does speak volumes about the stability you're getting – this is what allows you to easily stand up in it. You'll also find deck padding, if you want to make sure your feet don't slip when you're standing up.
Other important factors for fishing are the rails, as well as the storage capabilities. In terms of the rails system, you get four rails, two on either side of the seat, and two along one of the storage compartments. Where many kayaks don't have any, or make them unique and compatible with their own accessories, this is a truly very versatile solution. You'll find that most anglers don't really have four different fishing accessories, and this is an extremely welcome touch. And yes, we must mention the mount that's on top of the pedal drive system. This lets you put a fish finder, a cup holder, or whatever else you might want to keep in your line of sight when you're paddling.
In terms of storage, you get a sealable bow compartment. It is waterproof and it's a good place for keeping things that you want to make sure remain dry. Things such as electronics, your lunch, or your fishing gear, can go inside. At the back is a bungee strap rear compartment, which is open. Even though it's ideal for storing a dry bag, or something similar, we should note that it isn't as deep as other kayaks. There's a reason for this, and it's the increased stability. In the aft is a small, sealable compartment, too, which might come in handy.
Wrapping up our Native Watercraft Slayer Propel 10 – who is it for?
Well, the honest answer would be "not for everybody". Even though it isn't out of the price range of a lot of people, it is true that you can get cheaper kayaks. Also, if you need your kayak for anything else than fishing, you might be able to find a better alternative.
On the other hand, if you want a kayak that you would primarily use for fishing, this might be an excellent option. We mentioned the price isn't the cheapest, but in that regard, the Slayer Propel 10 punches way above its weight. It can easily compete with kayaks that cost much more, both in terms of performance and features, and build quality.
The hull is extremely well made, and it's one of the most stable kayaks you will ever find. Sitting or standing up, it doesn't matter, and you can attach plenty of fishing accessories to it. There's plenty of storage, and the kayak is easy to maneuver in tight places. The Propel Drive system is excellent, and easily beats most of the competitors' pedal systems. If these all sound like things you'd appreciate, the Slayer Propel 10 might be a great choice for you.