Cobra Kayaks Reviewed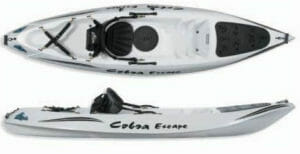 Cobra kayaks are sit-on-top kayaks primarily used as fishing boats, and for that purpose, they're a great yak for the money. The range of Cobra kayak models all seem to be very stable, good handling, roomy, and comfortable platforms for fishing.
Cobra kayaks are great for family outings, calm water touring, and even some wave surfing if you're so inclined. And the fact that they're just plain fun to paddle is a bonus.
We've heard no major complaints from Cobra owners, just a few minor issues like a lack of cupholders and footrests that were a little awkward for some paddlers.
Cobra Kayaks – the company
Cobra Kayaks has been in business for over 30 years, and the company has a lot of experience with rotomolding watersports products. The Super Linear Polyethylene they use is one of the best kayak hull materials on the market. It's strong, lightweight, and very fast on the water. It's also easy to repair, and UV resistant. In addition, Cobra produces their own innovative watertight hatches that are custom designed to fit their kayaks.
Team Cobra was put together in the winter of 2004 and is comprised of some of the best kayak fisherman from all around California. Members were selected not only for their fishing abilities, but also their contributions to kayak fishing in general, as well as their reputations for always extending a helping hand to people looking for information about kayaking, fishing, and the in's and out's of the sport in general.
The Team currently has a 5 man permanent California roster, a 2 man Texas Chapter, and will soon have a Permanent East Coast Team for Florida and the North East. This is in addition to the other Kayak Fishing Specialists who act as additional Team Members for large outings and tournaments, as well as assisting in different aspects of product research and development for Cobra Kayaks, Inc.
The Products
Cobra Explorer is a great all-purpose boat. Stable and fast with superb tracking, it's versatile for all sizes, shapes and varying expertise of the majority of paddlers. An oversized external rear tank well holds all types of sports gear or picnic supplies. For fishing and camping there is a flush foredeck with plenty of space for a large storage hatch. The Cobra Explorer is a totally self-bailing kayak, providing for a dry ride. Its stable 31″ beam makes it a good ride for anybody.
The Cobra Fish n' Dive-XF features a newly designed Tank well, which in addition to still securely holding a marine battery for a trolling motor, now also features a custom designed tray to hold bait buckets in place. Additionally, there is now added space for rear flush mount, or surface mount style rod holders.
The Fish n' Dive-XF takes the stable and time proven platform
of the Cobra Fish'n Dive and increases the options available for
Kayak Fishermen to customize the yak to suit their individual
needs.
The Cobra Marauder-XF is a pure performance fishing kayak from
every angle and offers excellent initial and secondary stability as well as a super silent hull design for stealth paddling around easily spooked fish. Ample rocker provides maneuverability and smooth paddling as well as stability during surf launches and landings, yet the keel design and channels in the hull make for excellent tracking.
Conclusion
If you're an angler or recreational paddler, Cobra kayaks are hard to beat. The company also offers a full line of accessories for their boats, from seats, paddles, deck hatches, motor mounts, fishing rod holders, rudder kits and more.
[box]
Return from Cobra Kayaks to Kayak Reviews Home
Return from Cobra Kayaks to Kayaking Journal Home Page [/box]