Hobie Kayaks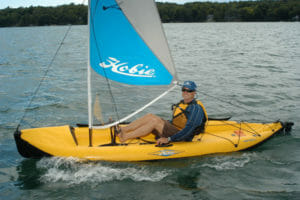 Hobie kayaks, manufactured by a company that's been making watercraft since 1950, offers unique and innovative sit-on-top kayaks for a variety of uses.
Hobie has been active in the watersports industry, and has made or is currently making surf boards, sail boats, fishing boats, and of course, kayaks.
One of Hobie Kayak's innovations is their MirageDrive system, which is a set of foot pedals that allow the paddler to operate a pair of underwater flippers that propels the kayak forward without the need for a traditional paddle.
This unique system frees up the paddlers hands, which is a greatfeature if you're fishing and don't want to set down your rod every time you want to

move your boat. As for steering, the paddler can turn the boat by operating a rudder through a set of hand controls.
Another Hobie innovation is the fact that you can add a sail to many of their kayak models. Now admittedly a sail takes a little getting used to, but once mastered, it allows for almost effortless kayaking on a breezy day.
Hobie kayaks are the sit-on-top variety, where the paddler rides in an open cockpit. This also makes them a great platform for fishing and general recreational use. Many people new to the sport of kayaking are intimidated by more restrictive cockpits, and are afraid of being trapped in the boat during a capsize. All their kayaks offer  a closed-deck design with self-draining scuppers and seats that  keep you dry (most of the time, anyway).
Another feature that fishermen (and women) will appreciate is the large internal cargo bays on Hobie kayaks. Some models offer bays as large as 14″ by 21″, big enough for almost anything you'd want to bring along on a day trip.
Hobie kayaks are roto-molded polyethylene. While not the lightest hull material, polyethylene offers a sturdy, stable hull that will hold up through many years of hard use.
The Products
Hobie currently manufactures 11 different kayak models. Each of  Mirage Sport, Classic, Tandem, Outback, Adventure and Outfitter models are fitted with the MirageDrive pedaling system. The Lanai, Maui, Kona, Quest, and Odyssey models are paddle-only kayak. They also offer several tandem models, both with and without the MirageDrive.
The Pros
We've heard mostly positive comments from Hobie kayak owners we've spoken to. Most report good initial and secondary stability, and relatively good speed for roto-molded boats. The tracking while paddling is good, but a few owners reported the large turning radius on the Adventure model as a negative. The adjustable seats are comfortable, and almost everyone thought that the MirageDrive was a fun and innovative way to paddle a kayak. Several who had purchased the sail also found it a great recreational addition to their boats.
The Con
On the negative side, we have heard a few complaints from Hobie kayak owners. One owner, a fisherman, reported that the MirageDrive paddles (which protrude down from the bottom of the hull) made it impossible to move through shallow water, where he does much of his fishing. Another owner said that she had problems with the rudder cables on her Hobie kayak, a small but nonetheless annoying problem.

Conclusion
These few minor faults aside, we would still recommend a Hobie kayak to anyone considering a new sit-on-top boat for fishing or general recreational use. The Hobies feature innovative designs, a unique propulsion system, a variety of options and rock-solid construction that should serve owners well for many years to come.
[box] Return from Hobie Kayaks to Kayak Reviews Home
Return from Hobie Kayaks to Kayaking Journal Home Page [/box]