Pelican Kayaks Reviewed
If you're a recreational kayaker or angler looking for an affordable, entry-level boat that won't break the bank, then it's hard to go wrong with Pelican kayaks.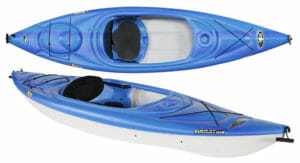 While Pelicans might not keep up with the sleeker, high- performance Perception and Wilderness Systems kayaks, they do just fine for recreational paddling around flatwater creeks and lakes, and at prices starting under $300, they won't break the bank, either.
Pelican kayaks, manufactured by Pelican International Corporation, are affordable, high quality, entry-level kayaks that come in a variety of sizes and configurations.
As a company, Pelican International has been around since 1968, and they also make canoes, peddle boats, and fishing boats. They stopped making kayaks for a time in the 1990s, but they returned to the market in 2001 with a series of sit-in and sit-on-top boats that feature 3-layer rotomolded hull designs.
Pelican has named their hull material "Ram-X" and "Ram-X-Celtm." The

latter is an advanced, 3-layer material that's strong, impact resistant, and has good rigidity and memory capacity. While not as light (or expensive) as kevlar or other composite materials, the Ram-X does make for a solid, affordable boat that will last for years under typical use.
The Products
Pelical International splits their kayaks into two lines – their sit-in and sit-on-top models.Their sit-in models include the Persuit series (touring), Sport 94 (recreational), and Getaway (sporting/fishing). The sit-on-top (SOT) models include the Zest and Viper series (recreational), Apex (touring), and Castaway (sporting/fishing).
The recreational kayaks are designed for family use and a variety of skill levels, and the SOTs include open cockpits, built-in flotation, and reasonable storage capacity. The sporting boats make great platforms for fishing, and provide a lot of storage capacity, built-in flotation, and wide, stable hull designs. The touring models – while not the first choice for serious paddlers going on multi-day excursions, who would probably opt for a more refined Perception or WS boat – do just fine with average paddlers who go on short trips on relatively calm water.
As far as reviews, we generally hear positive comments from Pelican kayak owners. The boats get high marks for their low price, ruggedness and stability, and ease of use. Even children new to the sport can hop into a Pelican and be paddling around a pond or lake within minutes. While not the fastest boats on the water, they do have good performance, and paddlers who fish from these boats seem to really love them.
On the negative side, we did hear a few complaints about the tracking on Pelican kayaks. Some people reported that as soon as they stopped paddling, their boats began to turn, sometimes sharply. This problem was remedied, however, by installing a pull-up skeg and spending a few hours learning how to use it. There were also a few comments about drainage problems with the seats.
Conclusion
These few negatives aside, Pelican kayak owners seem to be satisfied owners overall, especially if they just want a reliable boat for fishing or weekend recreational use. And with prices starting at under $300, you could buy one for every member of the family, and be out on the water this weekend!
[box] Top Pelican Kayaks For 2011[/box]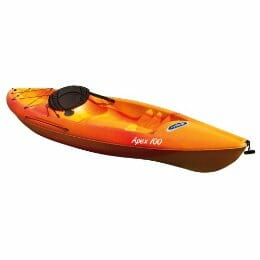 Pelican Apex 100
Enjoy a longer ride in this sit-on-top kayak with the comfortable and spacious cockpit, adjustable padded backrests, molded seat and footrests, and a self bailing design. The stern platform features handy storage with elastic bungee cords. Comes with paddle tie-down, cup holder, and bow and stern carry handles. Length: 10′. Beam: 30″. Depth: 14″. Cockpit: open. Weight: 43 lbs. Hull Material: RAM-X.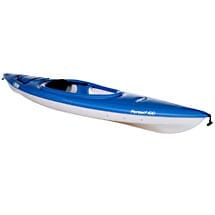 Pelican Persuit 100
This is one of the most popular kayaks in North America. Children and adults can appreciate its ease of paddling on a lake or calm river. Its accessible, comfortable and spacious cockpit and handy storage lets you enjoy the ride for hours. It features a molded seat with an adjustable high quality backrest, adjustable foot-pegs, and a handy stern storage hatch. Length: 10′. Beam: 28″. Depth: 13.75″. Weight: 39 lbs. Max. Capacity: 275 lbs. Hull Material: RAM-X.
                         Pelican Castaway Fishing Kayak

This practical and versatile fishing kayak integrates storage space with stability, safety, and comfort. It features a self bailing design, molded seat with an adjustable high-quality backrest, adjustable foot pegs, bow storage hatch, stern platform with a 5″ dry-bag, shock cords, cup holder, two flush-mount rod holders, and tie-down. Length:11'6″. Beam: 30″. Depth: 14″. Weight: 57 lbs. Max. Capacity: 350 lbs. Hull Material: RAM-X.
[box]
Return from Pelican Kayaks to Kayak Reviews Home
Return from Pelican Kayaks to Kayaking Journal Home Page
[/box]